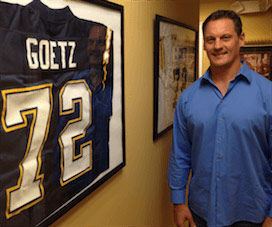 Chiropractor Christopher Goetz D.C.
Dr. Goetz Uses His NFL Experience to Provide You With the Best Therapy
Dr. Chris Goetz knows first hand the benefits of chiropractic care while playing football. 
His personal background includes collegiate football where he was an All-Conference student athlete at the University of Pittsburgh. In 1990 he was drafted by the San Diego Chargers of the National Football League. He finished out his career with the New York Jets in 1992 after succumbing to a right shoulder injury. Having seen the benefits of therapy as he recuperated from his injuries, he decided to enroll in Chiropractic Medicine School. He is married to Vickie and has three children: Tyler, Hunter and Sophia.
Allow Our Multidisciplinary Staff to Lead You to a Healthy and Pain Free Life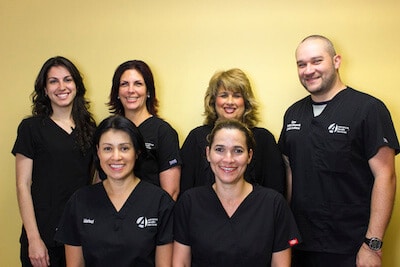 A visit to Advance Health Services includes friendly service and amenities like refreshments and cable movies in the reception areas and therapy room. Waits are always short and you will be seeing the doctor or receiving your treatment shortly after you arrive.
Our staff has decades of varied experience in treating injuries of the neck and back. Advance Health Services has on staff chiropractic doctors for spinal manipulation, a physiatrist specializing in rehabilitative medicine, and a physician's assistant trained in interventional pain management and primary care application. Rounding out our multidisciplinary staff is a team of massage therapists and physical therapists who work with the latest in spine care and pain management technology. Our staff of dedicated professionals will guarantee that you receive the very best in neck and back pain relief and help you achieve overall health and well-being.
Monday
10:00am - 7:00pm

---
Tuesday
10:00am - 7:00pm
---
Wednesday
10:00am - 7:00pm
---
Thursday
10:00am - 7:00pm
---
Friday
10:00am - 5:00pm
---
Saturday
9:00am - 12:00pm
---
Sunday
Closed